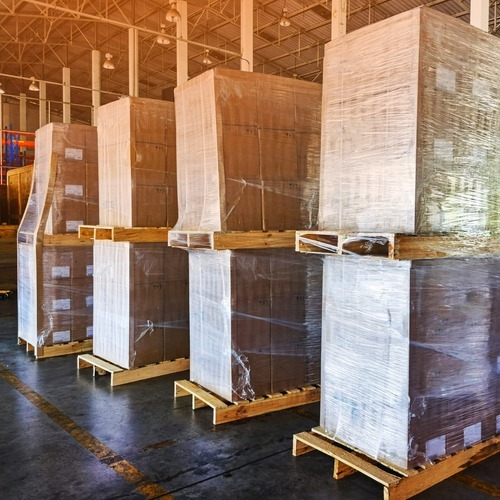 Striping Experts
Maybe you've never been in a business with a warehouse, but, if you have been in any of the warehouse stores that are considered 'clubs', then you have been around warehouse line striping. Within those lines in these club stores, you'll notice that is where merchandise is racked, shelved, and stacked throughout the store. If you have faded warehouse line striping in Waco and Temple, TX or need new striping, give eSquared Asphalt Maintenance a call at 254-716-8685.
What is warehouse striping?
Warehouse line striping inside the warehouse is done with epoxy paint or tape positioned on the floor for visual identification. There are several reasons why striping is essential to a warehouse:
Organization: Warehouses or club stores with warehouse line striping makes it clear where things belong which saves energy and time for the employees and customers.
5S Methodologies: Proper warehouse line striping that follows 5S Standards is more effective. A proper line striping job makes the warehouse safer by keeping bulk storage in a predetermined area that is organized.
Direction: Warehouse line striping promotes safety where forklifts are used by directing the operators in the direction they should travel. Warehouse line striping also advises pedestrians where to cross or not to enter.
PPE Required: In some warehouse settings, PPE (Personal Protection Equipment) is required and with proper warehouse line striping in place, employees can be made aware of those areas.
What is the best paint for warehouse lines?
OSHA (Occupational Safety and Health Administration) has established guidelines for warehouse line striping. This includes the colors, placement, and sizes. These guidelines are designed to help maintain a consistent protocol within each warehouse setting.
Some facilities will use vinyl tape for temporary striping, but that will wear off with forklift and foot traffic. A permanent solution for any warehouse, but especially for one that a busy environment, epoxy paints are recommended.
What are the line marking standards for warehouse line striping?
OSHA requirements are for warehouse line striping to be no less than 2" wide with consideration that larger facilities have lines between 3" and 4" sizes. The wider striping in larger facilities is to have more attention to the aisles and areas to minimize problems.
Are there color requirements for warehouse line striping?
Yes, and by OSHA requirements and standards, the following colors have been in use for several decades and have become almost 100% universal. The colors and meanings are as follows:
Yellow: Used for denoting aisleways, traffic lanes, and work cells
White: Where equipment and fixtures that haven't been assigned another color belongs. Such as carts, floor stands display racks, machines, workstations, etc.
Blue, Green, Black: Storage for finished goods, work in progress, and raw materials.
Orange: This area is designated for inspections of energized equipment, materials, and products.
Red: Placement of 5S red flags, defects, reworks, and scraps.
Red & White: This area must be kept clear for compliance and safety reasons. This is typically found where electrical panels, firefighting equipment & supplies, safety equipment, and first aid stations are located.
Black & White: This area is to be kept clean for operational use.
Black & Yellow: Caution of health hazard areas should be avoided.
What are warehouse line striping duties?
This is the person(s) responsible for making sure all warehouse line striping is done and in good condition. After several hours (years) of a warehouse being used by forklifts and foot traffic, it is recommended to repaint the striping to keep it in line with OSHA requirements.
The actual warehouse line striping should be done by a professional contractor that specializes in this type of work. This can be the same person that stripes the dock area and parking lot.
Are there specific shapes to the warehouse line striping?
Yes, along with the standardized color choices, OSHA has established the following shapes and how they should be used:
Octagon Signs: These are stop signs painted on the floor. They advise any indoor vehicle such as forklifts to stop before proceeding further. 
Arrows: The floor marking of arrows are to direct foot traffic where they should go, especially in case of an evacuation.
Exit Signage: Exit signage on the floor directs occupants to the nearest exits.  
Footprints: Footstep shapes direct employees and visitors in which direction they should walk in the warehouse.
Warning Signage: The shape of a hazard or the word "warning" advised any person they should practice all safety steps in a specific area.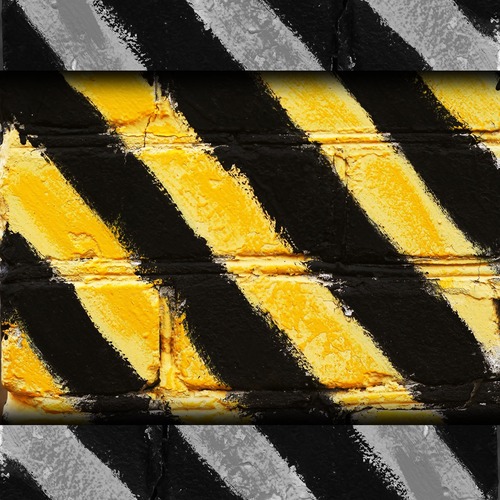 Success Is Only As Good As The Striping
A successful warehouse line striping should begin with each employee that works in the warehouse or has access to the warehouse having a thorough understanding of the colors, shapes, and meaning of all striping.
Each warehouse employee and member of management should be well-versed in the OSHA requirements, and warehouse management should inspect the warehouse on a monthly schedule to ensure these requirements are being met. Make sure your warehouse line striping in Waco and Temple, TX is up to speed and have our experts stripe your floors. Set up an appointment today by calling 254-716-8685.