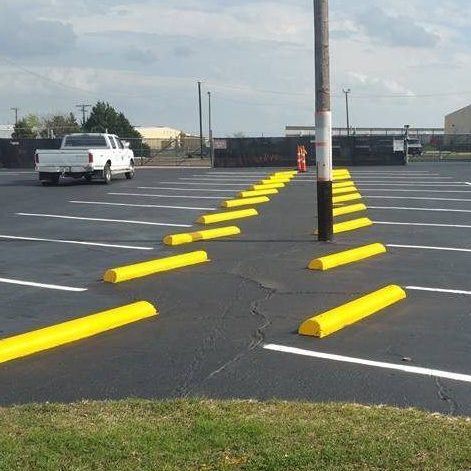 Your Parking Lot Maintenance Experts
When it comes to your business, every detail counts and parking lot maintenance is no exception. We know that in Waco and Temple, TX, parking lot maintenance can be the difference in gaining a new customer or losing three to another company. Luckily, our team of experts provides comprehensive parking lot maintenance throughout Waco and Temple, TX at a great price. Our experts will complete all of your parking lot needs quickly, efficiently, and with minimal disruption to you or your business. For expert parking lot maintenance around Waco and Temple, TX, call our experts at 254-716-8685.
Parking Lot and Commercial Striping
Whether you need compliant handicap spaces striped or you need new fire lanes marked, our professionals have you covered. We can complete any striping or lining job you require with expertise and guidance. Our experts will walk you through each process to provide information about material costs and benefits, as well as performance and lifespans to ensure you get exactly what you are looking for. No matter what the project, our experts are here to help you get results you will be proud of for years to come. Call us today for parking lot maintenance in Waco and Temple, TX.
Pavement Marking Whether you need parking lot lines or directional communication, our experts can provide fast, reliable service to get you back to business.
Reflective Painting Learn how reflective paint stands up to the darkest of circumstances and when it can be beneficial to your parking lot.
Warehouse Striping Keep an organized, safety-compliant warehouse with our professional striping for loading docks, walking areas, non-access, and more.
Code Compliant Painting and Maintenance
No business owner wants to be slapped with EPA or ADA fines. In fact, we go to great lengths to prevent it. Our professionals are trained and experienced in all types of commercial painting and marking to provide compliance at all times. When you need compliant, comprehensive parking lot painting and maintenance around Waco and Temple, TX, call our experts at 254-716-8685 to experience the eSquared Asphalt Maintenance difference.
Your parking lot is the first impression your patrons have of your business. Make it a good one with our parking lot maintenance services offered in Waco and Temple, TX. Call our experts today at 254-716-8685 to learn more about how our experts can help you.