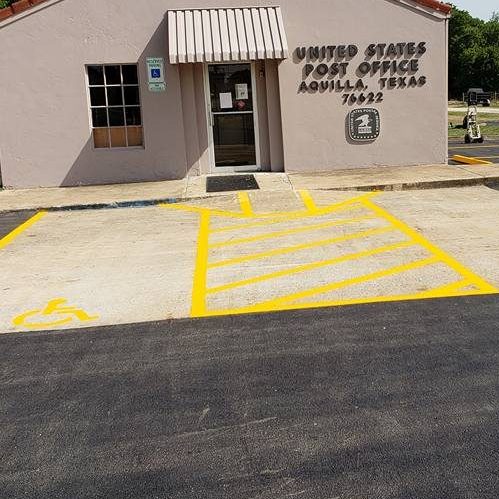 Professional Handicap Striping for Your Parking Lot
Handicap striping is heavily regulated by the ADA and is required for any commercial or multifamily parking lot. These regulations cover details like height, width, color, and location of handicap spaces and lines, as well as the number of spaces there should be for each size parking lot. When you need handicap line painting, don't take on the hassle of coding and regulations with your city. Instead, call our professionals at 254-716-8685 for your handicap lining painting needs in Waco and Temple, TX.
Why are Handicap Spaces Regulated?
In 1990, the United States Government founded the Americans With Disabilities Act, which states among many other requirements to keep handicapped people safe and included, that all public areas must provide handicap access people by offering handicap accessibility services such as parking spaces, ramps, and markers. Along with this Act, came requirements such as the amount of handicap accessible parking spaces you must have available in your parking lot. These regulations can be acted upon with fines and other consequences if not followed, and are very detailed in their requirements and specifications.
The Space Marking Process
Our experts research each local ordinance section to ensure your spaces are correctly placed and marked for your protection and the protection of handicapped people. Much like handicap logo painting, your project is planned and laid out before beginning to ensure your complete satisfaction. We discuss every aspect of the project with you including paint benefits and choices, as well as application times and processes to make sure you're in the loop at every turn. Our professionals clean your specified area of all paint and debris before beginning to ensure a perfect seal that lasts through the elements and traffic weight. Our high-quality paint is highly reflective and meets all environmental and ADA standards of compliance.
Our professionals use precision and care to ensure your handicap striping, logo painting, and fire lanes are accurately placed and follow every standard and ordinance of your city. When you need professional handicap striping in Waco and Temple, TX, call our experts at 254-716-8685 for a painting job you can trust.