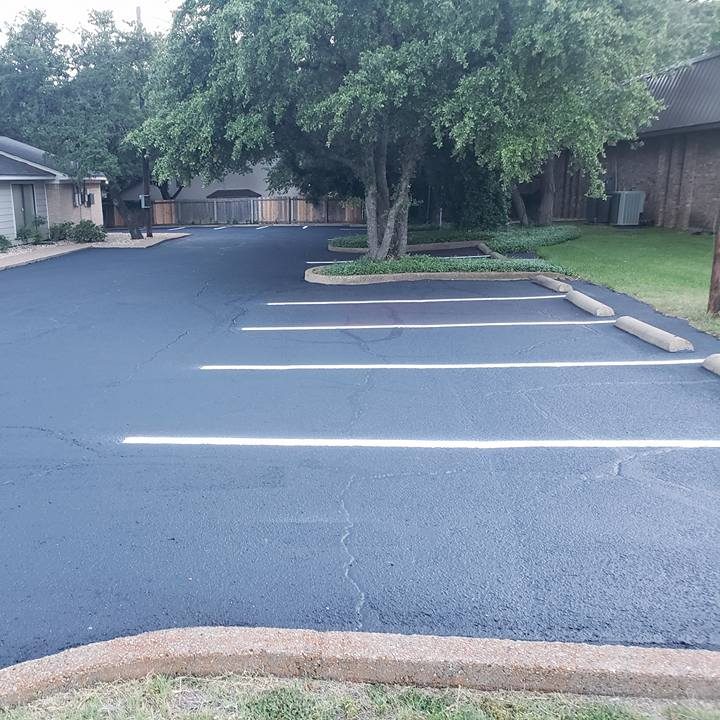 Parking Lot Line Painting and More!
When you need the ultimate in concrete care and parking lot line painting throughout Waco and Temple, TX, call the eSquared Asphalt Maintenance team first. Our seasoned experts are trained in all facets of parking lot painting and other cement marking to ensure that your project is completed accurately and within all guidelines. You can expect exceptional services with our specialties in seal coating, crack sealing, asphalt repair and striping! Our professionals will provide you with fresh parking lot line painting that stands out among the crowd and stands the test of time. Call our representatives at 254-716-8685 to schedule your consultation.
Parking Lot Maintenance
Along with our parking lot painting services, we provide extensive, code compliant marking, repairing, and even cleaning to ensure that your parking lot is always presentable and inviting to your patrons. When you need parking lot services, call our team for professional results that won't break your budget.
Seal Coating and Crack Seal Maintenance
Our professionals are also skilled with seal coating and crack seal maintenance for your business. We can provide comprehensive restoration or repair or any cracks, as well as apply any seal coatings that can increase the protection abilities of your property. We provide cleaning and maintenance services for your concrete and asphalt, as well as coatings which can provide fresh looks and prevent future damages on your property. Find out how easy it can be to create a masterpiece on your space with our exceptional services!
Whether you're looking for crack sealing or line painting in Waco and Temple, TX, no team is more trusted than eSquared Asphalt Maintenance. With years of experience under our belts, we are able to deliver a finished product you can be proud of. Our paving experts work with you to identify your needs and discuss each option in detail to ensure you're able to make the best decision for your business. Call us today at 254-716-8685 to schedule your appointment today.