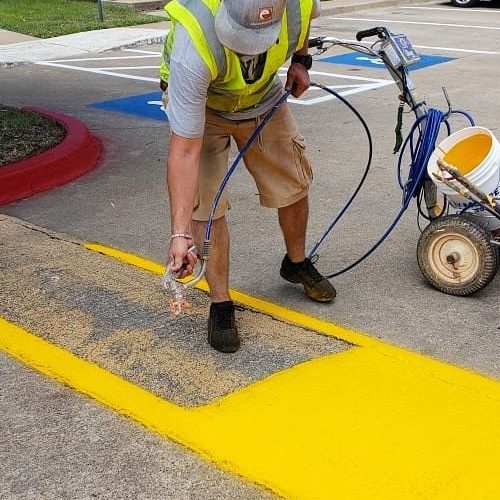 High-Quality Services You Can Trust
The eSquared Asphalt Maintenance team is highly experienced in the accurate placement of parking lot and construction pavement markings and can complete your striping job quickly and flawlessly. When you need arrows or lanes on your parking lot, our team has you covered. When you need skilled, knowledgeable pavement marking in Waco and Temple, TX, call our experts at 254-716-8685 for your evaluation.
Pavement Marking Materials and Purposes
Each type of pavement marking material has ideal purposes in mind when it's created. Therefore, there is, in fact, a perfect marking material for each project. Our experts will evaluate your project and discuss all of your options with you, explaining benefits, lifespans, and application methods to help you make the best decision for your project. Call us for pavement marking in Waco and Temple, TX!
Pavement Paint
This low-cost system is used when the work to be done will be covering the current layer of concrete. Pavement marking paint is available in both water and chemical-based formulas, as well as reflective formulas, and, is one of the quickest installed options. Pavement paint can be used for both permanent and temporary marking jobs.
Pavement Markers
These small yellow and white markers are typically used in partnership with paint or tape and enhance the effectiveness of the system. These markers are applied by fastening one side to the concrete while the other end sticks up, creating the ultimate visual traffic aid.
Each type of pavement marking material has its list of benefits that our experts can help explore. Our professionals will discuss your project with you to discover and apply the perfect marking system for your needs. When you need parking lot marking applied, our painting experts can complete your project quickly and efficiently. When you need reliable pavement marking in Waco and Temple, TX, call our painting pros at 254-716-8685 to schedule your consultation.