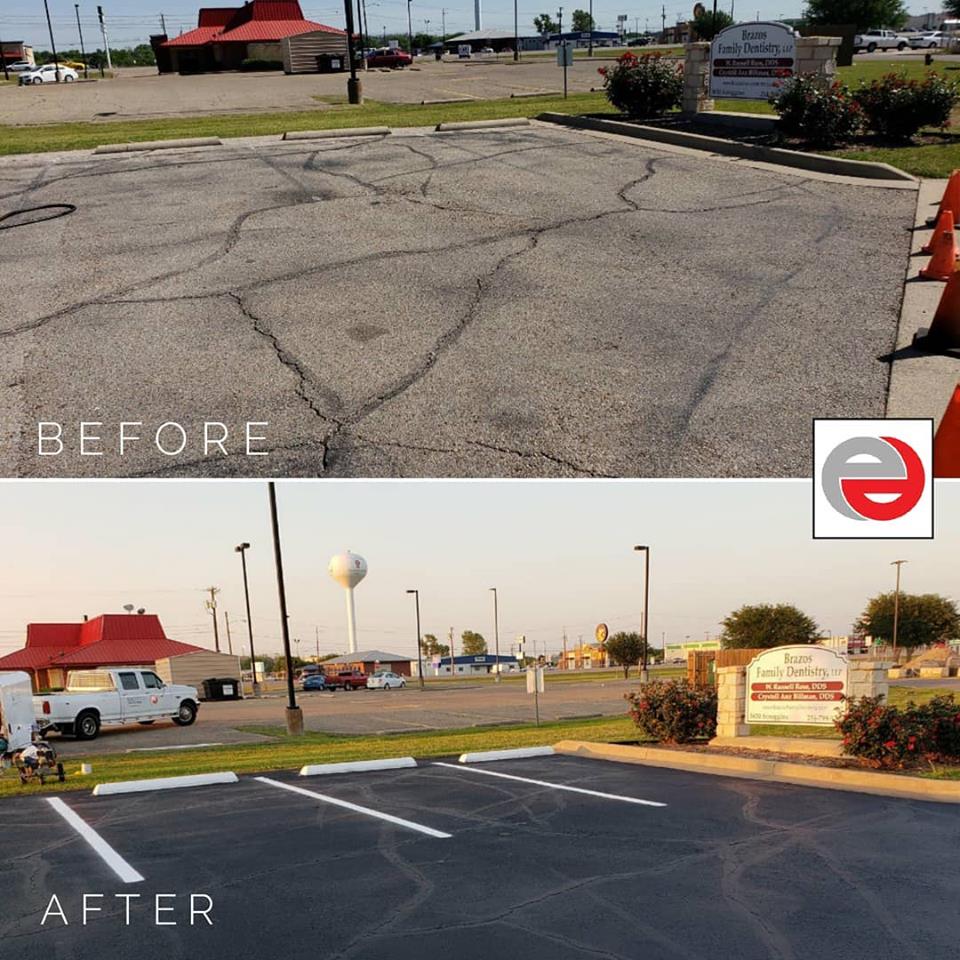 Your Pavement Experts
The first experience your customers have with your business is while driving through the parking lot. In this single moment, visitors begin to form an opinion of your company. Don't let a cracked driveway or pothole-filled parking lot cause a negative effect with your patrons. The eSquared Asphalt Maintenance team can deliver sealcoating services throughout the Waco and Temple, TX area to ensure that your drive always looks its best. With pavement sealing, your parking lot or driveway can last years longer and require minimal repair and maintenance. Call our professionals at 254-716-8685 to learn more about your sealcoating options in Waco and Temple, TX.

What is Sealcoating?
Sealcoating places a protective polymer seal on top of your pavement that defends it against hazards like vehicle toxins, weather, UV rays, and more. These coatings also protect against debris and dirt that can wedge itself under the top layer of pavement, causing major damage to the material underneath. In fact, dirt, sand, and other debris finding its way into your pavement is how cracks, potholes, and crumbling is caused. Sealing your business' pavement:
Double the life of your asphalt pavement
Replenish binding that is lost through weathering and aging
Give your parking lot a fresh new look for a fraction of the cost of resurfacing with new asphalt
Provide superior protection against environmental distress
Preserve a professional image of your business
Restoration With Sealcoating
Along with protection, sealcoating offers your pavement a complete restoration, repairing small cracks and crevasses as it coats. This offers your parking lot and driveway a new, uniform appearance that stands up against fading and discoloration. Sealcoating also covers past crack seals, stains, and other blemishes that can cause your pavement to appear dingy and worn. Call the eSquared Asphalt Maintenance pros at 254-716-8685 to find out we can restore your parking lot and driveway to reveal a smooth like-new appearance.

Is Sealcoating the Option for You?
While sealcoating can repair minor damages and protect against new ones, it's crucial to complete the service before the damage becomes too significant. Because sealcoating polymers sit on top of the pavement, they cannot repair potholes or fill large cracks. For these damages, crack sealing and pothole repair will be needed first. The eSquared Asphalt Maintenance team will inspect your pavement and identify its damages and imperfections. We will discuss each of your options, delivering details like cost, benefits, and lifespan so you know just what to expect with your service.
Protection You Can Count On
Protect your pavement from premature wear and tear as well as natural hazards like UV rays and weather. Our service team works with your schedule to deliver quick, convenient service that has minimal effects on your business. Call the eSquared Asphalt Maintenance experts at 254-716-8685 for professional pavement sealing throughout the Waco and Temple, TX area. We can help restore and protect your pavement for a new, uniform appearance that lasts.