Notice
: Trying to get property 'id' of non-object in
/home/esquared/public_html/site/wp-content/plugins/righteous-reviews/righteous-reviews.php
on line
689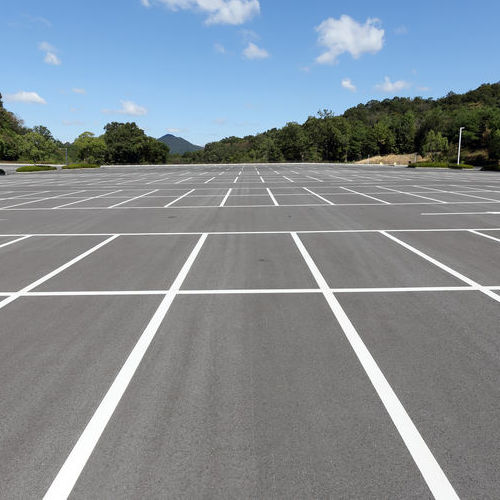 Get Clear, Clean Lines
In order to provide sage orderly parking for employees, customers and visitors it's important to have clearly marked out and parking lot spaced for a property. What's more, in order to follow ADA compliance it's important to provide handicap accessible parking. Improve on the functionality and appearance of your location with our team of workers. Give your business, office, or other type of property a fresh look with parking lot striping in Waco and Temple, TX. eSquared Asphalt Maintenance is here to provide you with the services you need for a well maintained look, call us at 254-716-8685 to learn more.
Improve Safety
Essentially, the purpose of parking lot striping in Waco and Temple, TX is to safely guide both drivers and pedestrians to designated areas. With clear pavement markings, striped crosswalks, and parking spaces collisions will be minimized and the flow of traffic is directed with the clear guidelines of your parking lot. A clear and defined landscape will be visible for people both in and out of cars.
Maximize The Area
Wih clearly designated areas you may be able to increase the capacity of your parking lot. Faded or absent striping will cause drivers to park haphazardly wherever they deem fit which can occupy space inefficiently. With clear and concise parking lot striping in Waco and Temple, TX you'll be able to create space that will make the most of every square foot with cars parked in an organized and well-spaced manner.
Handicapped Access
It's essential to provide designated space for handicapped guests and customers not only for their convenience but in order to comply with the law under the Americans with Disabilities Act. With legally mandated standards you'll provide clearly denoted spaces for handicapped visitors that will be useful for everyone.
Improved Appearance
With fresh and clear paint you'll show your visitors that you are up to date with maintenance which leaves a professional first impression. The curb appeal of new and bold lines will set you apart from properties that have old and faded parking lot striping.
Get Set Up With Services
eSquared Asphalt Maintenance is ready to provide you with a fresh new look with clear parking lot striping in Waco and Temple, TX. Simply reach out to our professional staff regarding your property wished and goals and we'll be sure to set you up with services that are satisfactory. We look forward to speaking with you at any time at 254-716-8685.