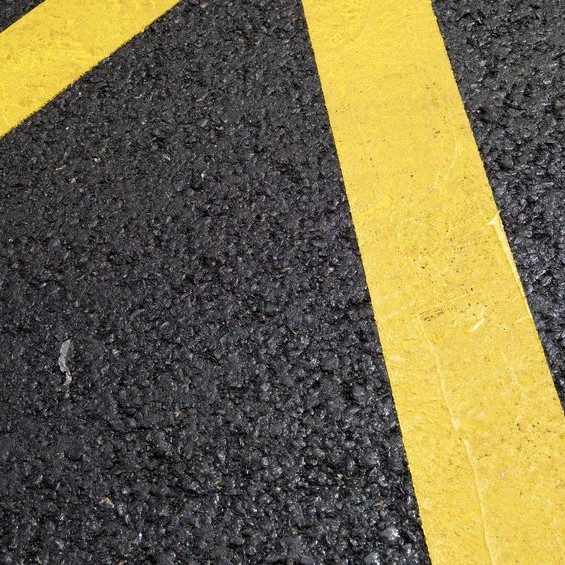 What type of paint is used for parking lot markings?
Reflective paint markings can be helpful for private property, including reflective paint for parking lots. 
For reflective paint, chlorinated rubber-based paint is used. This pain is used to draw arrows, lines, numbers, and parking bay lines. This paint is used on bituminous and concrete surfaces because of it is abrasion resistant, durable, and tough in all types of weather with a fast drying time. A chrome and lead-free paint that has low VOCs, makes this an environment-friendly paint choice for cities, states, and private property owners that need reflective paint for parking lot markings. 
What makes paint reflective?
Flat white paint is the most reflective paint with tiny additives that make it luminous. The manufacturer of reflective paint uses small reflective crystals and adds them to the flat paint. This same process can be added to eggshell or satin paints at home for private use inside the home where a homeowner desires a touch of reflectiveness. 
What paint is used for parking lots?
Commercial, private, and public parking lots can have a high amount of foot and vehicle traffic.  Therefore, the need for durable reflective paint is the better choice for this use as well. There are numerous types available in paints used for high-traffic planned parking lots used for line striping which include solvent-based alkyd resin paints or solvent-based chlorinated rubber. Water-based acrylics and others are available also.
Water-based acrylics are the most common and popular paint choice by far because of their excellent durability and elevated brightness for visibility. Water-based acrylic is popular for the environmentally friendly factor too. 
Many city, state and local governments have specific requirements for reflective paint for parking lots that meet or exceed the ADA (Americans with Disabilities Act). Regardless of size, these requirements must have an appropriate number of handicapped-accessible parking spots. 
These requirements include reflective paint for parking spaces in handicapped blue and white painted markings in addition to metal handicap signs posted at each parking stall identifying them as handicap spaces. The ADA requirements typically call for one handicapped parking stall for every twenty-five regular parking spaces.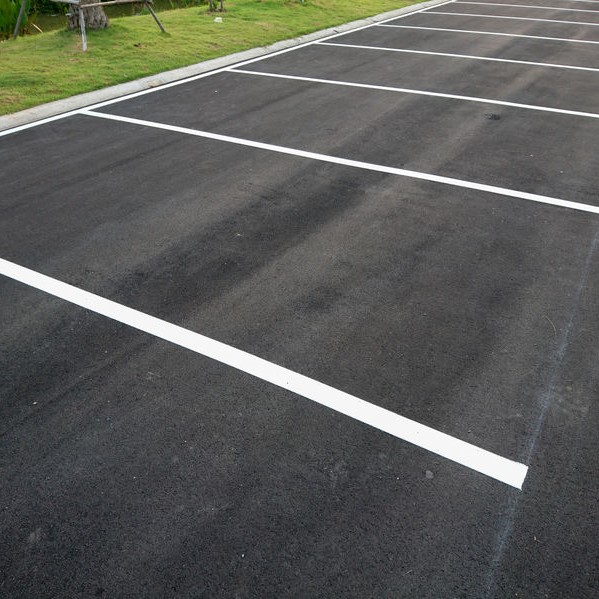 How fast does paint dry?
As a private or public business, the parking lot is critical to the daily operations. It needs to be open ad accessible to traffic, with easy entrance and exit. So when it comes time to have reflective paint for parking lots applied, it needs to be applied and dry as fast as possible. 
The contractor you choose to work with should know how to use reflective paint so that it can be applied fast, and in the majority of cases, within 30 minutes, the paint is dry enough to touch with the hand. This doesn't mean it is ready for vehicle traffic though. There are several factors to be considered that will affect the drying time. These factors stand-alone or in a combination: 
Weather conditions:  The temperature should be above 50 degrees Fahrenheit and a relative humidity level no higher than 80 percent. A light wind is beneficial, but stronger winds can be problematic. If the contractor is using water-based paint, cooler temperature, high humidity, but light wind, the drying takes longer. For oil-based paint, isn't as significant.
Pavement age: New asphalt or concrete pavement tends to absorb paint, leaving a thin appearance of the reflective paint for parking lots. This can be remedied by applying a second coat, which is equal to having the parking lot painted twice. The best solution is for the contractor to use a thicker coat. If the parking lot has a lot of traffic, a second coat may be needed.
Paint type: There is a broad category of reflective paint for parking lots, both oil-based and water-based. Within these categories, there are specialty paints, like fast-drying, highly reflective, or high-performance, long-lasting. There is reflective paint for parking lots that can be cold-applied or hot-applied thermoplastic. Paint types affect the time it takes to apply and the drying time. Most contractors would rather work with water-based reflective paint for parking lots for asphalt surfaces and oil-based paints on concrete surfaces. An experienced contractor will make professional recommendations based on the age, the climate and environment, and the anticipated traffic flow.
Pavement condition: Older parking pavement may require repairs or special pre-treatment, like a seal coat. Any asphalt patching or crack repair work will factor into the time it takes for the contractor to complete the job in addition to applying the reflective paint for parking lots. 
Once you have a quote on your reflective paint for parking lots, you will want to know how long parking lot paint last, and this is a legitimate concern and question. After two years, most reflective paint for parking lots will lose a quarter of its visibility. With most private and public businesses, every 2 years is the recommendation for re-applying the reflective paint for parking lots. Call 254-716-8685 today for your asphalt painting needs in Waco and Temple, TX.