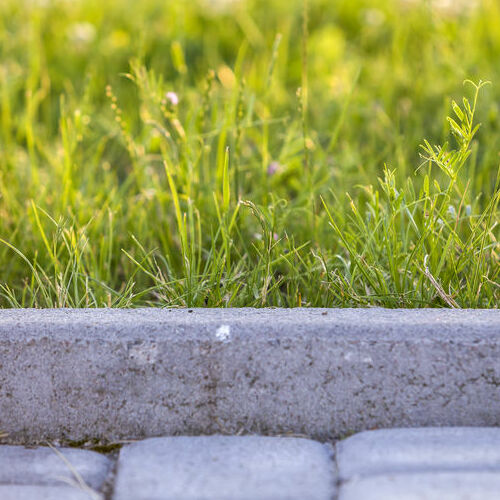 How do you install landscape curbing?
When you're developing borders around flower gardens or other landscaping features, you have several options for materials ranging from plastic to metal to concrete curbing. Concrete curbing is both durable and aesthetically pleasing. It's also fairly easy to install. Depending on the project's size, it normally just takes about a day to install. Generally, if you have old edging or borders, that material will need to be removed before the curbing is added. The space where the curbing will go is then trenched somewhere between one to four inches deep in most cases. The concrete is then mixed onsite and poured. A sealant is normally applied afterward to protect the curbing from water damage and UV radiation. When you are working on a landscaping project and need reliable professionals for concrete curbing and bordering in Waco and Temple, TX, you can always count on the team at eSquared Asphalt Maintenance. Find out more about how we can help you by calling 254-716-8685.
How do I make concrete curbing?
If you have the right tools and skills, you can create concrete curbing for your garden following this simple process:
Use a garden hose or rope to mark the perimeter of the edging. You'll want to create a design that allows the border to be about five inches wide.
Dig out the border perimeter to a depth of four inches and width of eight inches. Create a solid base for the concrete by tamping down the soil.
Place wooden stakes at 1 ½-foot intervals along the length of the border.
Create the concrete mold using ¼-inch by 4-inch by 8-inch pieces of flexible hardboard (for curves) or rigid plywood (for angles) attached to the stakes.
To keep the curbing at an even width placing spacers along the bottom of the excavation. The spacers are made of 1-inch by 1-inch boards in lengths equal to the width of the border.
Mix the concrete until it is firm and workable, then pour it. Spread the concrete with a trowel until it is all even and consolidated.
At three-foot intervals, use the trowel to cut control joints. The control joints should be at least one inch deep in the concrete. Use a concrete edging tool to consolidate and smooth the border.
Apply acrylic concrete sealant to the curb and then allow the concrete to cure for about three to five days.
How do you fix landscape curbing?
When you have concrete curbing bordering your landscaping, there may come a time when it gets damaged. In some cases, the repairs may be pretty easy and straightforward. Take these basic repair steps to fix your landscape curbing:
Use angled chisels and a hammer to smooth out rough edges and break off jagged pieces.
Scrub the surface with heavy-duty steel wool before cleaning the area by spraying it with water.
After the curb dries, use a stiff nylon paintbrush to coat the curb with a concrete bonding product.
Use a trowel to coat the curb with a concrete patch product.
Also, use a trowel to fill in the damaged area with concrete. Concentrate on the edges to make sure the concrete is smooth.
Remove all excess concrete by scraping the surface with the trowel. 
Cover the patched area with a waterproof tarp or canvas to allow the concrete to dry and harden. The hardening process could take anywhere from five to seven days.
What is concrete bonding agent?
Whenever you repair damaged concrete, you'll make the repair with fresh concrete. A concrete bonding agent or bonding adhesive is required to ensure the new concrete will adhere to the old. Otherwise, the new concrete just sits over the old as an additional layer, preventing the repair from making the concrete serviceable again.
How long does concrete curbing last?
When you install concrete curbing, it's durable. It can last anywhere from 10 to 30 years and requires very little maintenance. Applying acrylic concrete sealer over it about every other year will ensure the curb's longevity.
Can you paint concrete curbing
Along with being durable, concrete curbing is fairly easy to paint, if you want to add a dash of color to your landscaping. Because concrete is porous and absorbs paint quickly, you'll want to add a sealant over it before you paint. You'll also add a coat of primer before you paint, and we recommend at least two coats of paint. Additionally, you'll follow up your paint job with an exterior sealer.
Can you remove concrete curbing
If you need to remove your curbing, it's generally pretty easy, especially if the curbing was installed by digging a trench. In this case, all you need to do is pull up on the curbing to remove it. It might require a hammer to knock the curbing loose from the ground. Removing curbing in which concrete was poured for the base, is a little less simple. You'll need to chip away the concrete with a hammer and chisel.
Is concrete curbing worth it
Concrete curbing is valued for its durability, but it can be expensive to install because it requires forms to be set down for the concrete to be poured. Even if you use pre-cast concrete, this material often costs more than plastic, wood, or metal. It can be ideal for smaller yards. Of course, curbing is also aesthetically appealing and will require little maintenance.
Who does concrete curbing
When you're looking to edge your garden or landscaping, and want professionals to install your concrete curbing Waco and Temple, TX, you can always rely on the team at eSquared Asphalt Maintenance. We offer a full range of solutions to fit any budget. Find out more about how we can help or get a quote by calling 254-716-8685.