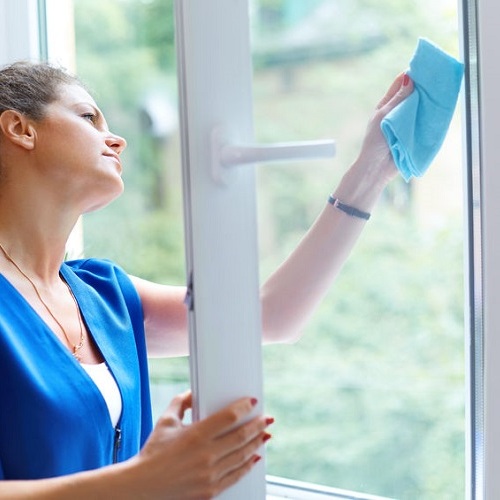 Clearing Things Up
When you invest in quality windows for your home, the last thing you want is for dirt and grime to obscure the view. Like gutter repair or tree disease treatment, cleaning of your windows is an infrequent but important task for your home. "But the cost of window washing in my area is more than I want to pay!" Thankfully, there are ways that you get around these costs and resolve the problem yourself!
Today, we'll discuss how to tackle window cleaning on your own. By the end, you should have all the details you'll need to get the job done. Let's dive right in!
DIY Cleaning Approach
If you want to make your window cleaning a DIY project, you'll need to start by grabbing the right materials. Picking the wrong solution could leave you with an even worse fog on your windows, and nobody wants that! Below, we'll walk through the steps to prepare your solution and clean the windows.
Solution
What is the Best Solution for Cleaning Windows?
Most DIY professionals recommend using a 3:1 blend of water and ammonia, or a 2:1 water and white vinegar solution. You can buy these materials cheaply, and they offer odor eliminating properties on top of their cleaning abilities. Simply mix them up into a spray bottle!
What Do Professional Window Washers Use?
Professionals like to keep their solution simple, so many use the vinegar and water mixture. If you want to add a little more power to your cleaning solution, just add a little dish soap!
Timing
When Should You Clean Windows?
Most experts would recommend cleaning your windows twice a year, or more if you live in a dusty or sandy environment. You'll want to pick a dry, but overcast day so that the sun doesn't dry out the windows as you work!
Glass Cleaning
How-To Window Cleaning Tips
For this process, you'll need to choose a solution that you're comfortable with. If you don't feel like using the white vinegar or ammonia based solutions we mentioned earlier, try a commercial product like Windex. You'll need a garden hose, your cleaning solution, a rubber-bladed squeegee, a dry towel, some dish soap, and a bucket of cold clean water. Pick your choice of soft-cotton mop, microfiber cloth, or sponge mop too.
Hose off the chosen windows, then wipe over them with your cloth or mop. Rinse again, then spray them thoroughly with your solution. Finally, take your rubber squeegee and (starting at the top) wipe off the surface with an over and downward motion all the way to the bottom of the window. Be sure to clean off and dry your squeegee after each stroke.
Window Cleaning Tips
Start by hosing down the windows to eliminate extra dust & grime.
When you then scrub your panes, never use rough cloth or steel wool!
If you're having difficulty removing grime, let your solution rest a few minutes.
For cleaning high windows, make sure you have someone to hold your ladder.
You can use the same cleaning process for your window interior, substituting your hose and laying down bath towels on the floor.
Screens
How Do You Clean Outside Window Screens?
One of the best parts about cleaning your window screens is that you can do it with basic household products. All you'll need is ammonia, water, a spray bottle, and a scrubbing brush. Mix a 3:1 solution of water and ammonia into a spray bottle. Before you get started, you'll want to remove the screens from their respective windows and lay them out on a flat open area outside. Make sure you make a note of where each screen comes from!
Start by taking a hose and gently wetting the screen. Take your solution and spray a small section, carefully scrubbing covered area. Keep the screen flat on the ground to avoid accidental tears. Rinse off the section with your hose and repeat with the remaining window screens.
How Much Does it Cost to Clean Windows?
Pricing is typically arranged per window for washing service, meaning your total cost will hinge on the number of window panes in your home. According to industry pricing experts, you can anticipate per pane costs to run from $2-$7. However, expect those costs to run even higher if your windows have become extremely dirty. Some cleaning companies prefer to charge an hourly rate, which may run around $250 or higher. Keep in mind that companies may offer selective pricing for your choice of exterior or interior cleaning, in addition to screen washing.
If you prefer to do the work yourself, you could potentially save hundreds of dollars. Of course, you must be willing to put in the extra time in order to get the cleaning finished correctly.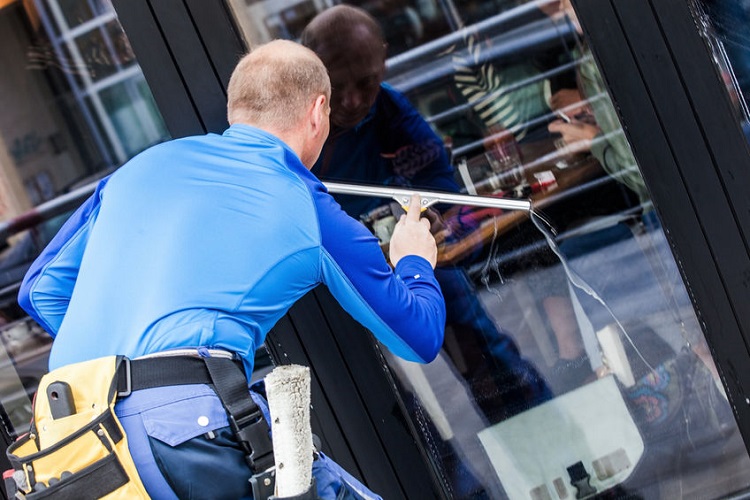 Need a Window Cleaning Professional!
Do you feel like you'd rather have an experienced professional clean your windows? Our seasoned window specialists at eSquared Asphalt Maintenance would love to help you turn your windows back into the clear surfaces you love to gaze through. When you entrust your home to the window washing and window cleaning experts, you can expect lasting results!
Call our friendly staff at 254-716-8685 today to schedule your window washing in Temple, TX. If you haven't partnered with us before, be sure to see what other folks have to say in the reviews section. We can't wait to serve you.