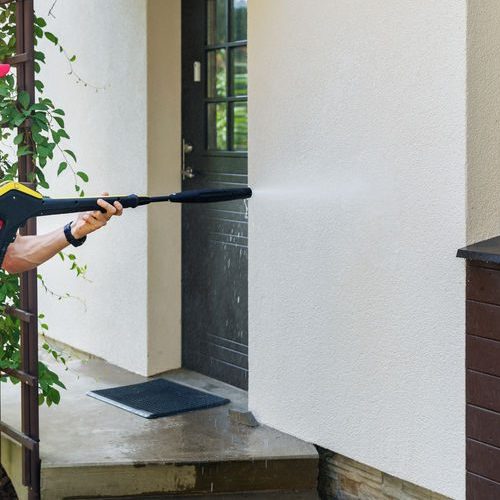 Have Your Exterior Walls Cleaned Today!
Looks matter a great deal when you consider the exterior of your business or home. Casual observers will absolutely generate a first impression based on the exterior of your property. If you worry about the state of your structure's exterior, schedule exterior wall pressure washing in Waco and Temple, TX from our expert team. Whatever the state of your exterior, our service can peel back the dust to reveal a bright elegance. To set up service or learn more about pressure washing's benefits, call us today at 254-716-8685.
Why Use a Professional?
When pressure washing your business' exterior, there are many variables to keep in mind. The machine's psi level, as well as the type of, if any, cleanser that is best suited for the material are just a few considerations that an experienced expert can identify without causing damage to your business. We can offer excellent exterior wall pressure washing in Waco and Temple, TX!
Because You Just Can't Beat Experience
A pressure washer that is set too high can mark or even dent fragile exterior materials like vinyl, stucco, or wood tile, causing costly damage. Our technicians are experienced in every type of pressure washing and know how much pressure to use to ensure a thorough cleaning without damage. We use a steady, uniform technique to ensure no lines or spray marks are incurred while leaving the exterior revived and energized.
Because Cleansing Agents Are Important
The right type of cleanser is also imperative when performing exterior wall pressure washing in Waco and Temple, TX. Damages like peeling paint and material deterioration can happen if the cleaner is too abrasive. Our experts are knowledgeable in all material types and cleansers, so you don't need to worry about hazards to your business. We provide general washing as well as mold and algae removal to ensure you get the service you need for your building.
Because Damage Can be Prevented
When doing any type of work to the exterior of your business, it's a good idea to inspect it thoroughly for damages and wear. Signs of damage on your exterior walls could include cracks, missing or damaged material or algae marks from water runoff, and should be repaired as soon as possible to minimize damage. This can help prevent huge problems later such as foundation problems, roof problems, and overall structure and integrity problems. Our professionals perform a comprehensive inspection of the area prior to washing to ensure that the structure is sound and no damage will come from your exterior wall pressure washing. We check all areas for holes, cracks, and thinned areas so that your business doesn't incur any water seepage from the wash.
Pressure washing building exterior can be time-consuming and hazardous to your structure. Instead of risking costly damage, let our expert technicians help. We can perform comprehensive exterior wall pressure washing throughout Waco and Temple, TX that is code compliant and presents an elegant, neat appearance without causing damage to your structure. Call our professionals at 254-716-8685 for reliable service you can trust.